Shereen Timani, MD
Professionalism is my choice
Susan Brown - Google Review
I have been going to Dr Timani for many years. Not only is she very compassionate and knowledgeable, she keeps her practice on the cutting edge of all dermatological procedures/treatments. She and all of her staff exude a high level of professionalism. Dr Timani is an exemplary physician and a "class act" in every way. I highly recommend her!

Schedule your consultation
Doctor Shereen Timani is an award-winning, triple board-certified physician specializing in Dermatology, Dermatopathology, and Mohs Surgery. Dr. Timani is board-certified and an active diplomat of:
• American Board of Dermatology
• American Board of Dermatopathology
• American Board of Micrographic Dermatologic Surgery and Cutaneous Oncology
She is voted as best dermatologist of North Atlanta for many consecutive years.
Dr. Timani attended medical school and completed a dermatology residency at the American University of Beirut (AUB). Subsequently, Dr. Timani relocated to Cincinnati where she fulfilled a second residency in dermatology and pursued a fellowship in Dermatopathology. After mastering medical dermatology, surgery, and cosmetics, she chose to specialize in Dermatopathology as the perfect complement to her clinical skills. Later in her career, she finished her journey with a certification in Micrographic Dermatologic Surgery, Mohs surgery. 
In her first residency program, there was an emphasis on genetic conditions, Mohs surgery, and cosmetics. In her second program, there was an emphasis on skin conditions related to internal diseases, especially autoimmune diseases, Mohs surgery, and pediatric dermatology.
In fact, Dr. Timani trained at a world-renowned pediatric dermatology center at Children's Hospital of Cincinnati. Dr. Timani then took an interest in skin cancers. For one year, she practiced as a physician at Veterans Center of Cincinnati, where she gained invaluable knowledge of sun-damaged skin.
As one of the rare practicing dermatopathologists, Dr. Timani has developed a solid reputation because of more than 18 years of experience successfully treating complex cases. Dr. Timani's successful application of precision and technical skills in surgery, combined with her subspecialty in dermatopathology, make her the ideal Mohs surgeon for more complex skin cancer removals.
She is also a unique Mohs surgeon with a certification and expertise in Dermatopathology, an integral component of Mohs surgery.
Dr. Timani is one of a few dermatologists in the Atlanta area with detailed comprehension of all the dermatology disciplines. Her reputation and demeanor with children and adults attract some of the most complicated cases from all over the southeast to her care. Dr. Timani is also one of a few dermatologists in the area who consults on inpatients and whose expertise is sought after for complex skin conditions.
Dr. Timani is an active member of multiple medical societies:
• American Academy of Dermatology
• American Society for DermatologicSurgery
• American Society for Mohs Surgery
• American Society for Dermatopathology
• AmericanAcademy of Cosmetic Dermatology
• American Medical Association
• Medical Association of Atlanta
Dr. Timani previously served as the Chair of Dermatology Division at Emory Johns Creek Hospital on the Board of Trustees of the Ohio Dermatology Association. She has contributed to countless presentations at numerous professional conferences in the United States and overseas. She has published multiple articles in journals and contributed to research on subjects such as alopecia area, immune profile of eczema and psoriasis, hyperhidrosis, stem cells in dermatology, and the immune reconstitution syndrome.
Dr. Timani is local to the city of Sandy Springs and is thrilled to bring her expertise to the neighborhood. She has witnessed the development of this beautiful city and is eager to participate in this amazing growing community.
Is my Dermatologist Board Certified?
Click here to see if your doctor is certified by the ABD (American Board of Dermatologists)
What is a Dermatologist?
Dermatologists are physicians who have specialized knowledge and training to care for patients of any age with diseases and conditions of the skin.  Dermatologists treat conditions that range from life-threatening skin cancers and drug reactions; to life-disrupting conditions such as eczema, psoriasis, and acne; as well as skin changes associated with aging.
There are more than 3,000 diseases of the skin.  Most doctors who are not dermatologists have only one or two months of dermatology education and clinical experience during medical school and residency.
In contrast, board-certified dermatologists have years of specialized training in diseases of the skin, hair and nails and mucous membranes.  To become a dermatologist, you must complete four years of college, plus four years of medical school; then you must complete a year of internship, three years in specialized dermatology training (residency), then pass certifying examinations verifying one's knowledge of the field, and actively participate in continuing certification activities.
In their three years of residency training, dermatology residents learn how to recognize and diagnose skin diseases in adults and children, how to biopsy and interpret the microscopic presentation of skin disease, how to surgically and medically treat skin diseases (such as skin cancer and rashes) as well as normal skin aging (including Botox, fillers, and age spots).
Some dermatologists focus their practice on specific areas. Physicians who have completed their three years of general dermatology training may continue for an additional year to specialize in pediatric dermatology, in an area focused on skin cancers -- micrographic surgery and dermatologic oncology, or in dermatopathology.
Some of the 3,000 skin conditions and diseases that Dermatologists diagnose and treat:
Skin cancers
Rashes and hives
Itchy, flaky skin, including eczema and psoriasis
Open sores and blisters of the skin and mouth
Skin findings associated with internal diseases
Moles
Birthmarks
Acne and rosacea
Warts and molluscum
Skin infections caused by bacteria, fungus, yeast, and other organisms
Cysts and other abnormal bumps and bulges on the skin
Hair loss
Abnormal nails
Discolorations of the skin
Skin changes associated with aging
Inherited skin conditions
What does it mean to be Board Certified?
Certification by the American Board of Dermatology affirms that a dermatologist has met high standards – set by their peers -- of knowledge, experience, and lifelong learning that are essential for providing all patients with excellent care for skin, hair, and nails.
Being "certified" is not the same as being "licensed." Medical licensure sets the minimum competence requirements to diagnose and treat patients and is not specialty specific. All physicians in the United States must be licensed to practice medicine by licensing boards in each state they see patients.
Certification is specific to specialties and subspecialties and attests to an individual's advanced knowledge, training, and skills in a particular area of medicine. While a license is required to practice medicine, board certification is a voluntary process. 
ABD Certified Dermatologists have:
Completed three or more years of an accredited residency program in dermatology.
Passed exams demonstrating their dermatology knowledge and their ability to apply that knowledge to treat patients.
Made a commitment to stay current on the latest dermatology advances by participating in continuing certification activities and assessments throughout their careers. *
Once they have earned ABD board certification, dermatologists continue a program of life-long learning through the ABD that includes keeping up to date on breakthroughs in dermatology, learning about best practices in their field, and taking periodic assessments to assure their patients, their colleagues, and themselves that they continue to meet high standards of knowledge and expertise.
The American Board of Dermatology is one of 24 specialty medical boards that comprise the American Board of Medical Specialties (ABMS). Certification by these boards assures patients and health care organizations that the specialists they choose are skilled and knowledgeable, maintain their specialty expertise, and meet standards established by their peers.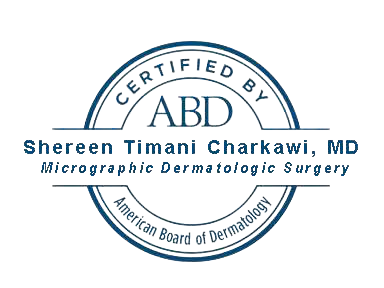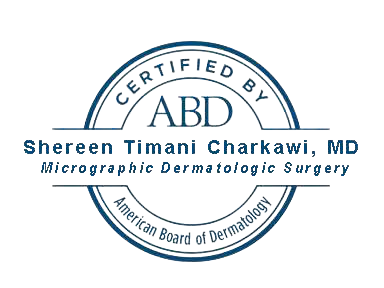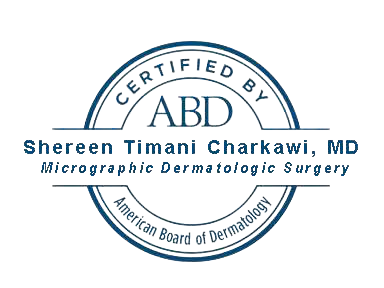 Susan Brown - Google Review
I have been going to Dr Timani for many years. Not only is she very compassionate and knowledgeable, she keeps her practice on the cutting edge of all dermatological procedures/treatments. She and all of her staff exude a high level of professionalism. Dr Timani is an exemplary physician and a "class act" in every way. I highly recommend her!

Our Practitioners
Dr. Zack Charkawi is a unique practitioner who combines in-depth knowledge of general medicine...

Know More

Anna is a board-certified physician assistant who specializes in Dermatology. She is a Georgia...

Know More

Kisa Meredith is a board-certified Physician Associate who specializes in Dermatology. She is a...

Know More